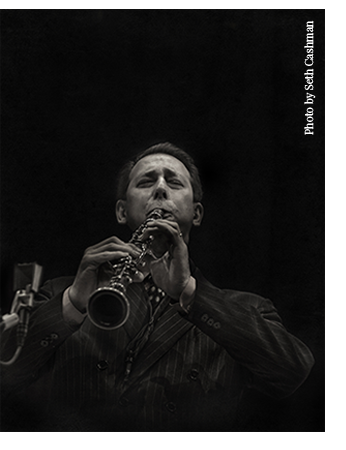 The 2017 winner of Hot House Magazine's "NYC Jazz Fans Decision" award for Best Clarinetist, Dan Levinson is equally at home as both leader and sideman, fronting his own groups as well as performing with those led by others. During a 30-year career specializing in traditional jazz and swing music, he has appeared alongside such prominent artists as Mel Tormé, Wynton Marsalis, Dick Hyman, Bria Skonberg, Ed Polcer, Howard Alden, Joe Ascione, Dan Barrett, Jon-Erik Kellso, Randy Reinhart, Mark Shane, Dick Sudhalter, Frank Vignola, Rossano Sportiello, Nicki Parrott, and Randy Sandke.
Though based in New York City, Dan's busy schedule often takes him across the continent and around the world. He has performed in Brazil with the Bunk Project, a band organized by Woody Allen and banjoist Eddy Davis, in Italy with the Manhattan Rhythm Kings, in Scotland with David Ostwald's Louis Armstrong Centennial Band, in Germany with the Barrelhouse Jazz Band, in Japan with the New York Ragtime Orchestra, in Los Angeles at the Playboy Mansion, and at numerous jazz clubs in Paris, including Le Petit Journal, Caveau de la Huchette, Autour de Midi, Duc des Lombards, and Le Bilboquet. His numerous music festival appearances include the New Orleans Jazz and Heritage Festival, the Sweet and Hot Music Festival in Los Angeles, the Bix Beiderbecke Memorial Jazz Festival in Davenport, the Central Illinois Jazz Festival, the Sacramento Jazz Jubilee, the Orange County Classic Jazz Festival, the Sedalia Ragtime Festival, the Hot Steamed Jazz Festival in Essex, Connecticut, the Edinburgh Festival and Nairn Jazz Festival in Scotland, and the Brecon Festival in Wales. From 1992-2004 Dan was a regular guest at Dick Hyman's annual Jazz in July Festival in New York. In 2004 Dan organized and was featured in the JVC Jazz Festival's centennial tribute to Jimmy Dorsey at NYC's famed Birdland jazz club.
An ardent Benny Goodman devotee, Dan's tributes to the clarinet legend have brought him many accolades over the years. In 1996 he gave a televised concert in Reykjavík for the president of Iceland and the prime minister of Italy. Since 1998, his re-creations of Goodman's 1938 Carnegie Hall jazz concert have delighted audiences on both sides of the Atlantic, spawning countless command performances in the ensuing years with various big bands. Dan is the clarinet soloist with – and co-founder of – James Langton's New York All-Star Big Band, NYC's preeminent swing orchestra, with whom he has appeared at Lincoln Center's prestigious Midsummer Night Swing series, and with whom he continues to perform regularly at the world-famous Rainbow Room in Manhattan. Since 2003, Dan has toured frequently with Andrej Hermlin's Swing Dance Orchestra from Berlin, performing tributes to Goodman, Artie Shaw and others in sold-out concert halls throughout Germany and Europe.
Dan's tremendous respect for songs and lyrics has made him a popular accompanist with vocalists over the years. As reedman with Ingrid Lucia and the Flying Neutrinos, Dan has performed in Atlantic City and Las Vegas, as well as at clubs throughout New York City. From 1990-2002 Dan toured extensively with singer/guitarist Leon Redbone, with whom he appeared on national television and at the celebrated jazz club Pizza Express in London. Dan has also accompanied vocalists Banu Gibson, Daryl Sherman, Janet Klein, Cynthia Sayer, and, most notably, his wife, the charming and talented Molly Ryan.
Since 1993 Dan has been a member of Vince Giordano's Nighthawks, with whom he has appeared at Carnegie Hall, on Late Night with Conan O'Brien, and on Garrison Keillor's A Prairie Home Companion radio program, in addition to the band's bi-weekly appearances at Iguana Restaurant in Manhattan.
Dan's own ensembles vary considerably in style and repertoire, running the gamut from ragtime-era dance music to early jazz to swing: his Canary Cottage Dance Orchestra specializes in early twentieth century (pre-jazz) popular music; his Roof Garden Jass Band is devoted exclusively to re-creating the earliest jazz recordings, made between 1917 and 1923; his Palomar Quartet is modeled after the renowned Benny Goodman Quartet and features the same lineup of clarinet, piano, vibes, and drums; his gypsy jazz group Fête Manouche honors the rich legacy of guitarist Django Reinhardt; and his New Millennium All Stars brings together a new generation of young and vibrant "torch bearers" who are currently breathing new life into century-old jazz traditions.
Originally from the Los Angeles area, Dan moved to New York in 1983. The following year he met 82-year-old reedman James "Rosy" McHargue, who became Dan's friend and mentor, and over the next fifteen years taught him most of what he now knows about music and life. During that period Dan also studied with world-class clarinet instructor Leon Russianoff and saxophone virtuoso Al Gallodoro.
In 1990 Dan moved to Paris to join a band formed by American cornetist Dick Miller that featured the up-and-coming vocalist Madeleine Peyroux, then 16 years old. Dan's wanderlust soon took him across the continent, through 17 European countries, where he earned a living for a year playing on the streets. Shortly after returning to the U.S., Dan temporarily relocated to New Orleans to perform a five-night-a-week engagement at the Royal Sonesta Hotel on Bourbon Street.
Dan has performed on over 150 CDs, including nine under his own name. He can also be heard on the soundtracks to the films The Cat's Meow, Ghost World, The Loss of a Teardrop Diamond, and Martin Scorsese's The Aviator, as well as on all five seasons of the Grammy Award-winning HBO television series Boardwalk Empire and all three seasons of the Amazon Prime Video series The Marvelous Mrs. Maisel. Dan's complete discography, along with his engagement calendar, photos, more information on his ensembles, and samples of his music, are available at www.danlevinson.com.
Click Here to Download Dan's Abridged Bio