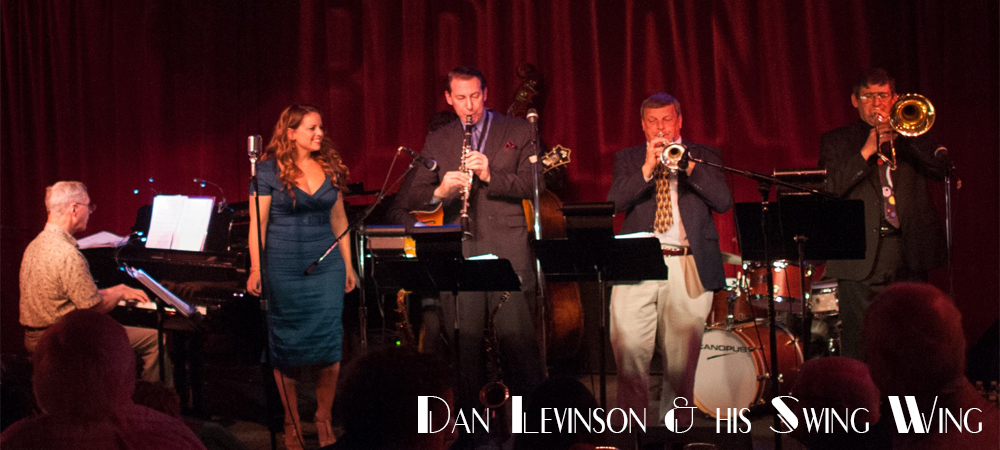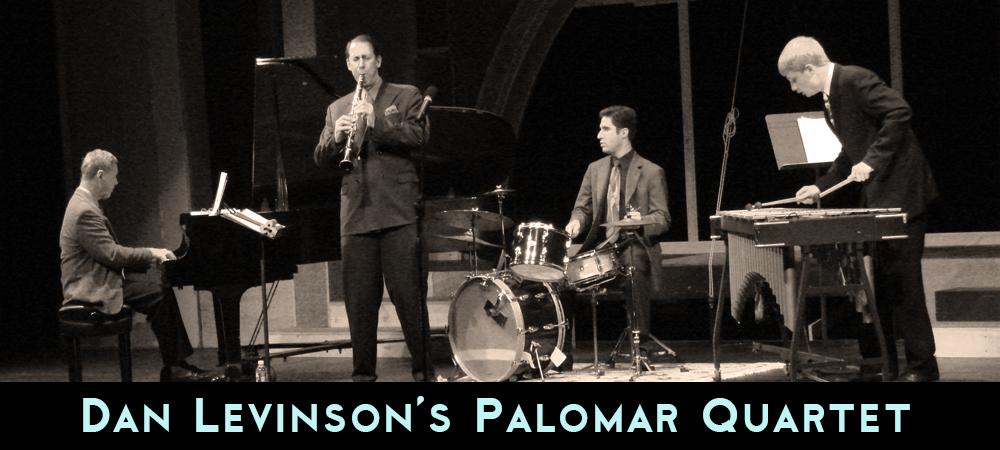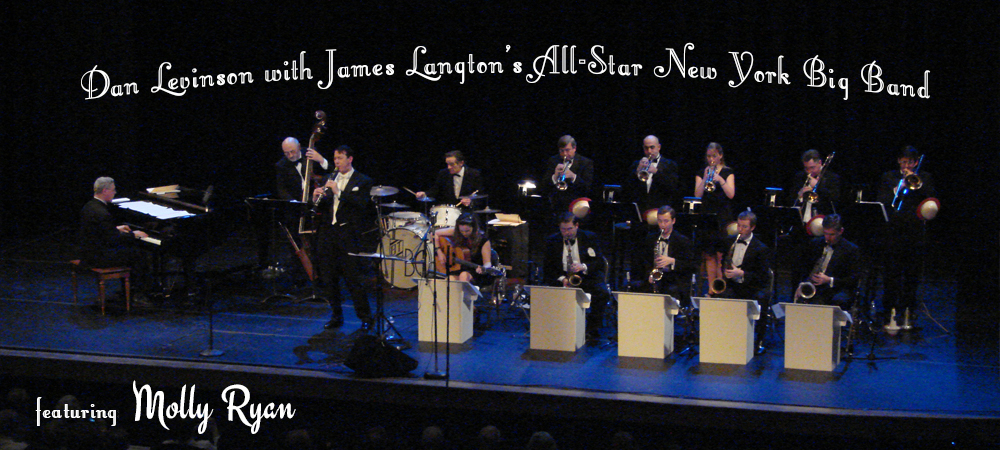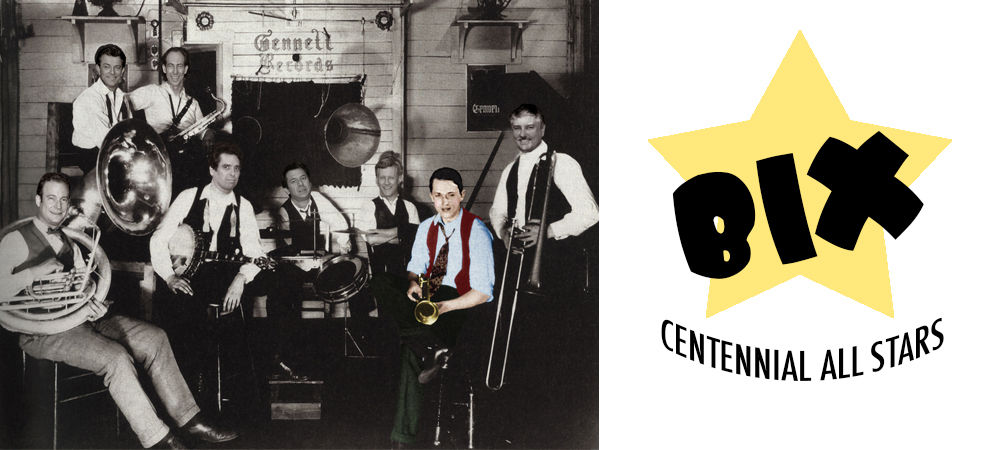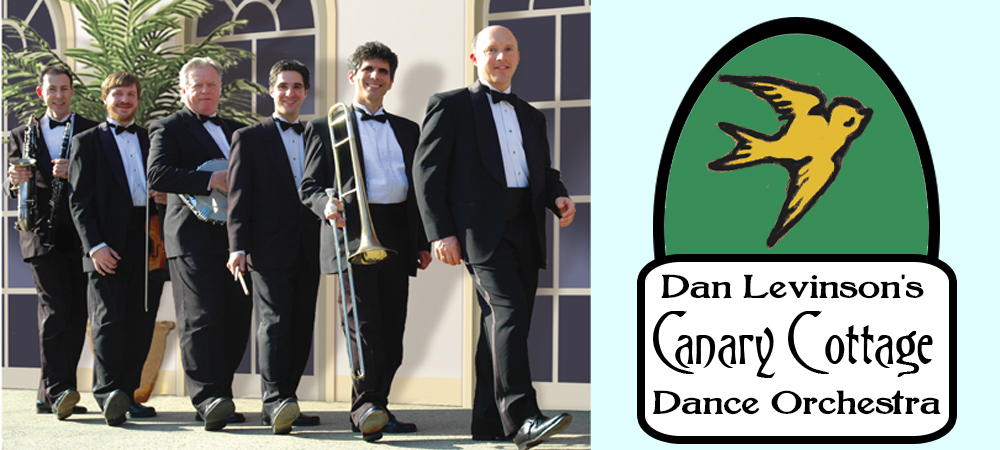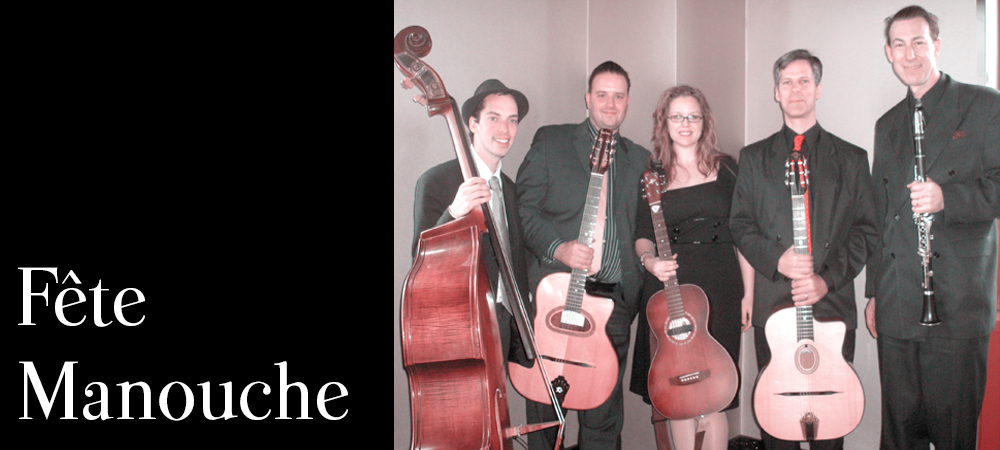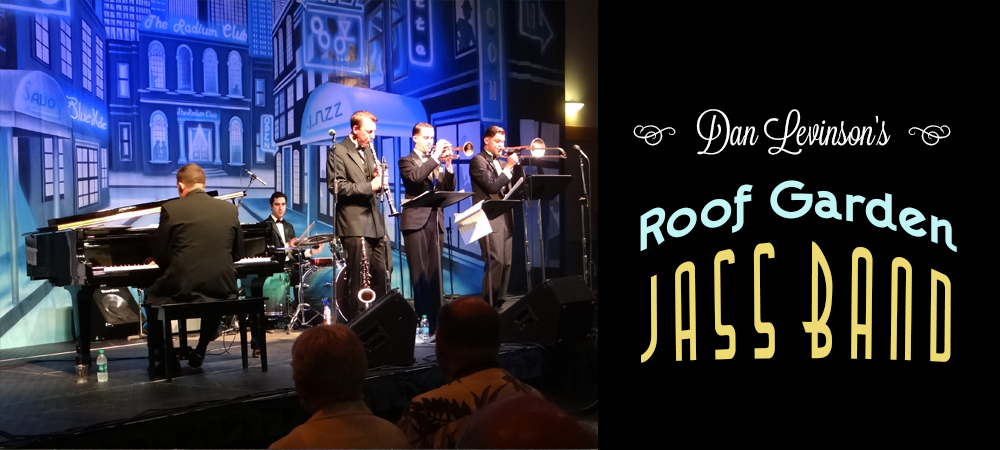 Dan Levinson and his Swing Wing
Dan Levinson and His Swing Wing—named after bandleader Paul Whiteman's "band within a band" during the 1930s—brings together some of the finest musicians in the New York area. The repertoire of this seven-piece group includes the music made famous by such pre-eminent Swing Era small bands as Tommy Dorsey's Clambake Seven, Bob Crosby's Bobcats, the John Kirby Sextet, Bud Freeman's Summa Cum Laude Orchestra, and others, expertly blending written music with free-wheeling improvisation. Molly Ryan's lush, elegant voice adds a dash of spice to the ensemble, recalling the style of the legendary big band singers of the '30s. Their debut CD, At the Codfish Ball (Loup-garous LG-2004), is due out at the end of 2008.
Dan Levinson's Palomar Quartet with Molly Ryan
In 1935 Benny Goodman began performing with a trio consisting of Teddy Wilson on piano and Gene Krupa on drums. The following year he added Lionel Hampton on vibes. This landmark quartet paved the way for two major breakthroughs in American music: the birth of small group swing and the integration of African American musicians into white bands.
Today the music of the Benny Goodman Quartet is as fresh and exciting as it was seventy years ago. With the brilliant, Wilsonesque flourishes of pianist Mark Shane, the virtuosic mallet work of 19-year-old vibes prodigy Matt Hoffmann, and the hard-driving intensity of drummer Kevin Dorn, each member Dan Levinson's Palomar Quartet channels his counterpart in the Goodman group with the skill and authenticity of a true follower. Molly Ryan evokes the elegant sounds of Goodman vocalists Helen Ward and Martha Tilton with such an uncanny flair that she sounds as though she stepped out of a time machine.
This dazzling little group, which in its relatively short existence has already performed for sellout audiences in New Jersey, Pennsylvania and Florida, proves that music doesn't have to be loud to swing.
Bix Centennial All Stars
Cornetist Bix Beiderbecke was one of the greatest jazz soloists of all time. After his premature death in 1931 at the age of 28, he became the first and most enduring jazz legend. His crystal-clear sound, melodic conception and driving, inventive solos inspired the likes of Benny Goodman, Bing Crosby, Hoagy Carmichael, Bobby Hackett, and Lester Young. Louis Armstrong said of Beiderbecke, "Every note he blew was so beautiful…he was a born genius." His short and tragic life, lived at full tilt in the roaring '20s, inspired the book Young Man with a Horn,later made into a film starring Kirk Douglas.
In honor of Beiderbecke's 100th birthday, concert promoter Doug LaPasta commissioned Dan Levinson and premier jazz cornetist Peter Ecklund to write new arrangements of some Beiderbecke's classic numbers. With a stellar 12-piece ensemble including cornet kings Randy Sandke, Jon-Erik Kellso and Randy Reinhart, along with Dan Barrett, Scott Robinson, Dan Levinson, Mark Shane, Howard Alden, Vince Giordano, Greg Cohen, Joe Ascione, and others, Mr. LaPasta produced a superb recorded tribute to Beiderbecke entitled Celebrating Bix. Released on the Arbors Jazz label in 2003, the CD has rapidly gained critical acclaim worldwide. Highlights include the three-cornet harmonizations of Beiderbecke's solos, scored by Mr. Ecklund.
The Bix Centennial All-Stars have appeared at the Wildflower Music Festival in Pennsylvania and in concert in Bridgewater, New Jersey. Selections from Celebrating Bix were performed at the JVC jazz festival's centennial tribute to Beiderbecke in 2003.
Dan Levinson and his Canary Cottage Dance Orchestra
It's 1917. You and your sweetie have just stepped into Doraldina's Montmartre in the Winter Garden Building on Broadway, just as the orchestra is starting to play. The verse is vaguely familiar, but when you hear the first strain of the chorus, the words come back like an old friend: "Pack up your troubles in your old kit bag and smile, smile, smile…."
The band you're listening to might well sound like the Canary Cottage Dance Orchestra – a six-piece ensemble consisting of violin, C-melody saxophone, trombone, piano, banjo, and drums, plus a barbershop quartet and the charming vocals of Molly Ryan. This unique group is devoted exclusively to "rag-a-jazz," a hybrid style of dance music that existed briefly from the mid teens through the early twenties, while ragtime was evolving into jazz. The Canary Cottage Dance Orchestra's spirited repertoire includes one-steps, two-steps, fox-trots, waltzes, and other dances popular at the dawn of jazz. Their debut CD, Crinoline Days (Stomp Off CD1400) was released 2005, followed by Steppin' Around (Stomp Off CD1415) in 2007. Listen…dance…and sing!
Dan Levinson's Roof Garden Jass Band
In 1987, Dan Levinson, then a senior at New York University, organized a five-piece band for a concert celebrating the 70th anniversary of recorded jazz. The phenomenal success of that event inspired a repeat performance across the continent in the Roof Garden of Los Angeles' famous Variety Arts Center, from which the band took its name. Since then, the Roof Garden Jass Band has performed for jazz societies throughout the Northeast, as well as at the Tribute to Bix Beiderbecke Festival in Wisconsin, the Orange County Classic Jazz Festival in California, and Dick Hyman's Jazz in July Festival at the 92nd Street Y in New York. The band has also been an annual fixture at the Hot Steamed Jazz Festival in Essex, Connecticut since 1998.
Initially, the Roof Garden Jass Band's repertoire consisted solely of Dan's note-for-note "transcriptions" of records made by the Original Dixieland Jazz Band, the group that made the first jazz recordings in 1917. Over the years, however, Dan has expanded the band's repertoire to include the music of the Original Memphis Five, the Louisiana Five, the Frisco Jazz Band, the New Orleans Rhythm Kings, the Georgians, and other "rag-a-jazz" bands active before King Oliver made his historic recordings in 1923. The Roof Garden Jass Band is the only band in existence devoted exclusively to this neglected era, a time when jazz—or "jass" as it was often called—still retained many elements of ragtime. In those evolutionary days, jazz bands played for dancers, and the music was almost entirely ensemble rather than a succession of instrumental solos.
The Roof Garden Jass Band's debut CD, Salutes the ODJB and the Beginning of Recorded Jazz, was released in 1998 on the Loup-garous label, followed by Blue Roses of Far and Near (2000) and Echoes in the Wax (2003), both released on the Stomp Off label.
Fête Manouche
Jazz Manouche—literally "gypsy jazz"—is an exotic brand of swing music, born in France in the early 1930s. The Lord and Master of Jazz Manouche was Django Reinhardt, a gypsy born in Belgium in 1910. In 1934, Django began a series of recordings with a group called the Quintet of the Hot Club of France. These recordings have become the foundation for a massive group of devoted Django followers throughout the world, to whom Jazz Manouche is more than a kind of music: it's a way of life. Clarinetist Dan Levinson discovered Jazz Manouche while living in Paris in the early 1990s and was mesmerized. In 2004, he met guitarist Tom Landman, who introduced him to other members of New York's gypsy jazz community, and Fête Manouche was born. Since then, the group has been keeping the Django legacy alive in the New York area, captivating audiences both young and young-at-heart.
Dan Levinson with James Langton's All-Star New York Big Band Featuring Molly Ryan
James Langton's All-Star New York Big Band features the cream of New York City's jazz musicians, faithfully re-creating the captivating sounds of the Swing Era, most notably the bands of Benny Goodman and Artie Shaw. Over the years, the ranks of this stellar ensemble have been graced by the exceptional talents of Randy Reinhart, Jon-Erik Kellso, Bria Skonberg, Randy Sandke, Dave Brown, Charlie Caranicas, Harvey Tibbs, Jim Fryer, Mark Lopeman, Chuck Wilson, Marc Phaneuf, the Anderson Twins, Mark Shane, Rossano Sportiello, Brooks Tegler, and Kevin Dorn. Vocalist/guitarist Molly Ryan brings her attractive, elegant vocal style to songs originally recorded by singers such as Peggy Lee, Helen Ward, Martha Tilton, and Helen Forrest. Before moving from London to New York in 2002, British-born bandleader James Langton led the internationally acclaimed Pasadena Roof Orchestra and the Solid Senders Orchestra, and spent many years painstakingly assembling his now massive library of arrangements, many of which come from the archives of the original bands.