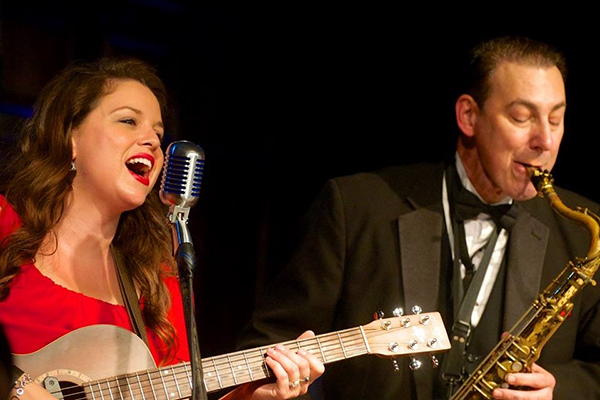 Molly Ryan & Dan Levinson at the Coffee Gallery Backstage
Wednesday October 14, 2015, 8pm
The Coffee Gallery Backstage
2029 Lake Ave, Altadena, California 91001
With Jonathan Stout on guitar & Marquis Howell on bass
$18 Cover
Big Butter Jazz Band at The Barkley
Friday, October 17th, 2015, 9pm
The Barkley Restaurant & Bar
1400 Huntington Dr, South Pasadena, California 91030
with "The Big Butter Jazz Band"
Conrad Cayman
Barbara Laronga
Corey Gemme
Michael Earls
Mark San Filippo
No Cover
The Michael Arenella Quartet at the Algonquin
Tuesday, October 20th, 7pm-9pm
The Algonquin Hotel
59 W 44th St, New York, New York 10036
The "Gonk" opened in 1902 and is home of the infamous Algonquin Round Table meetings where Dorothy Parker and her gang held court during New York City's most glamorous era, along with F Scott. Fitzgerald, Ernest Hemingway, Harold Ross, Alexander Woollcott, Talulah Bankhead, Margalo Gillmore, Jane Grant, Margaret Leech, Frank Sullivan, and Peggy Wood, among others.
Come relax in the historic lobby's plush armchairs, treat yourself to a nightcap, and listen to some tunes into the night!
No Cover
The Salon Halloween Stomp
Saturday, October 31, 7pm-3am
The Salon
4 West 43rd St, New York, New York 10036
Dan Levinson's Bogeymen with Molly Ryan + 35 other performers including 4 bands on two stages!
** $20 Early Bird Tickets (Tier 1) on sale now
** TIME OUT NY: one of the top NYC Halloween Parties in 2015!!
Dan Levinson's FÊTE MANOUCHE at the Algonquin Arts Theatre
Sunday, November 15 at 3:00pm
Algonquin Arts
173 Main St, Manasquan, New Jersey 08736
Gypsy jazz a la Django Reinhardt and the Quintet of the Hot Club of France
featuring
Dan Levinson, clarinet
Vinny Raniolo, guitar
Jordan Hyde, guitar
Molly Ryan, guitar/vocals
Rob Adkins, bass
Jazz Manouche – literally "gypsy jazz" – is an exotic brand of swing music, born in France in the early 1930s. The Lord and Master of Jazz Manouche was Django Reinhardt, a gypsy born in Belgium in 1910. In 1934 Django began a series of recordings with a group called the Quintet of the Hot Club of France. These recordings have become the foundation for a massive group of devoted Django followers throughout the world, to whom Jazz Manouche is more than a kind of music: it's a way of life. Clarinetist Dan Levinson discovered Jazz Manouche while living in Paris in the early 1990s and was mesmerized. In 2004 he assembled Fête Manouche and since then has been keeping the Django legacy alive in the New York area, captivating audiences both young and young at heart.
Ticket Information:
Premium: $36 (Adults), $33 (Seniors), $27 (Students)
Regular: $29 (Adults), $26 (Seniors), $20 (Students)
Discounts for groups of 12 or more
Box Office: (732) 528-9211 or see this link to purchase online.
The Fifth Annual Bickford Benefit Concert
Monday, November 16, 8pm
Bickford Theatre
6 Normandy Heights Rd, Morristown, New Jersey 07960
with THE BICKFORD BENEFIT BAND
Bria Skonberg, trumpet
Jim Fryer, trombone
Dan Levinson, clarinet/sax
Joe Midiri, clarinet/sax
Rossano Sportiello, piano
Molly Ryan, guitar/vocals
Nicki Parrott, bass/vocals
Paul Midiri, drums
This annual event to raise money for the Bickford Theatre and its parent, the Morris Museum, usually sells out, so don't wait to buy tickets at the door and be turned away.
This is going to be a truly spectacular evening of hot, stompin' jazz, featuring an all-star ensemble. Don't miss it!
Tickets: www.morrismuseum.org or (973) 971-3706